Ask K Anything! Is a Kart Kingdom blog post. K says she will be answering questions from the Kart Kingdom players. This of course was like a reporter's dream, and tons of questions were asked. It has 2,003 comments. Most of the comments are questions. Another meme came from this because K pointed to her mouth and users were saying she was hungry. People started posting pictures of food and joking about it. It is very popular.
If you want to go to this blog post, and learn about the meme, click here. http://pbskids.org/kartkingdom/blog/ask-k-anything/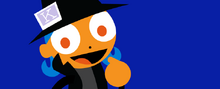 This is the third blog post to have K's signature without her photo.