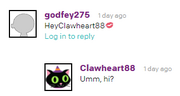 Clawheart88 is a popular user in Kart Kingdom. It all started when before she joined Kart Kingdom, she made a comment that she wished she could play Kart Kingdom. Several replies were commented, and it gave Clawheart88 the courage to ask her mom to download Kart Kingdom. She started doing blog, and playing, and found it very fun. She then had a lot of people come join her club, and started getting popular. A little later, her friend, TIGERSTAR, was the first to call her "Clawstar", which eventually came to be her name in her club. She uses it when she ends a comment:
'Stay Catty,
Clawstar'
She loves Warrior Cats, and her favorite cat is Briarlight.
She is in a number of clubs
Her close friends are elks3000, TIGERSTAR, Mystic44, cowgirllily, and many more users (She is very friendly)
She has a number of accounts, including readrach8, RachelS2807, Clawstar, Clawstar88, and ReporterRose. She first joined PBS KIDS as readrach8
She hates hackers, ever since her classmate hacked her friend
She plays other games like ROBLOX, Prodigy, PBS KIDS games, and Khan Academy
She also does computer lessons from i-Ready, which is her least favorite game/lesson website
She has multiple accounts because she had a account before, when she was younger, and was hacked, possibly by LAHM, but this is unknown. Clawheart88 always thought her classmate did this to her, as her classmate was a hacker
Her account on wikia is Clawstar88, which was blocked for four years (on this wiki) because of being underaged
From Clawheart88
Edit
Hey readers! I am a ultra warrior cats fan, Narnia fan, and Pókemon fan. I love writing stories, and I love being funny! I am tougher than the sweet little girl you see in me. I see myself as a cute kitten in the inside, but deep down I am a lioness. Just ask questions in the comment section below if you have any questions for me!
Hacking and Past
Edit
Before, Clawheart88 was four years old when she made her first account. She does not remember the name, but recalls having it starting with a s. One year later, she couldn't get in her account. She thought she was hacked, and she didn't come back to PBS KIDS until two years later. She then created readrach8, and later on, created several more accounts, just to be safe from hackers. Two years later, she made a comment on the Kart Kingdom Blog. That was how she ended up in Kart Kingdom.
Popularity
Edit
Clawheart88 was popular, when she made a comment of wanting to play KK. Later on, she became more popular when she opened up her club, which now has 20 members but is closed down for the moment. She became very popular when she got famous for being mention in K's blog post, Thank you, Clawheart88! She now remains popular with her KK friends.