Earth Is a landmark that you can only find in Quests. It is very popular. Many users took photos of it on the Kart Kingdom Blog. You have to find this item in the last Grand Glade Quest in order to get Free Explore for Grand Glade.
It can be found in
Grand Glade World
, in the ?????? room.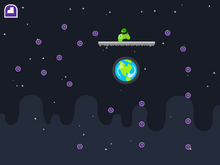 Ad blocker interference detected!
Wikia is a free-to-use site that makes money from advertising. We have a modified experience for viewers using ad blockers

Wikia is not accessible if you've made further modifications. Remove the custom ad blocker rule(s) and the page will load as expected.