Gus is a person in Kart Kingdom. He is very popular, and he is K's friend & owner of the Give And Get Truck in Grand Glade. If there's an event in the Kingdom (like the Odd Squad event), he collects special bits (like Odd Squad Pies). If people give him enough bits he will give them kart parts. He is first mentioned in the Say Hi to Gus! blog post.
Trivia
It has been revealed that Gus likes banana bread.
Gus comes to the Kingdom once every 1-2 months.
His favorite class/subject is math.
Appears In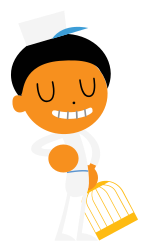 Ad blocker interference detected!
Wikia is a free-to-use site that makes money from advertising. We have a modified experience for viewers using ad blockers

Wikia is not accessible if you've made further modifications. Remove the custom ad blocker rule(s) and the page will load as expected.