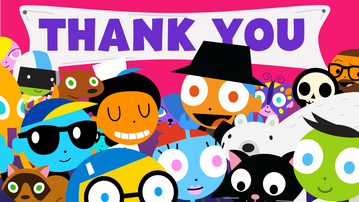 Happy 2016! Is a Kart Kingdom blog post where K says that she is thankful that we are her Kart Kingdom family. This blog post was written in celebration of the 2015/2016 New Years Event, so it is semi-popular.
Abby is shown in the photo for this blog post.
Dee and Del are also shown here, which is incredibly rare.
The polar bear, an octopus, a raccoon, and an otter are all in the photo from their quests (except for the polar bear, which, for some reason, is in another pose).
On the right hand side of the picture, a creator can be seen wearing a beard (that has not appeared in-game yet) and glasses.
Ad blocker interference detected!
Wikia is a free-to-use site that makes money from advertising. We have a modified experience for viewers using ad blockers

Wikia is not accessible if you've made further modifications. Remove the custom ad blocker rule(s) and the page will load as expected.