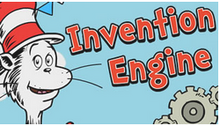 Invention Engine is a game playable in the Games Tent in Kart Kingdom. The objective of the game is to fix the levels so that the required item, to make stuff for a party, reaches the tube to the invention engine, until everything is finished. The game is supposed to teach engineering. You can earn cake bits and party hat bits from this game to make The Cat in the Hat Knows a Lot About That! and Invention Engine Karts, Stickers, Wheels, and Power-ups. The game can also be found on the The Cat in the Hat Knows a Lot About That! section of the PBS KIDS website.
Ad blocker interference detected!
Wikia is a free-to-use site that makes money from advertising. We have a modified experience for viewers using ad blockers

Wikia is not accessible if you've made further modifications. Remove the custom ad blocker rule(s) and the page will load as expected.