K is the news reporter of
Kart Kingdom
. She usually posts news on the
Kart Kingdom Blog
. She is rarely seen in the Kingdom, but sometimes she may see you and may make a blog post about you if you are spotted. But, you will not know its K since she is in a different account (Almost all the time she is in a new user account so no one knows). K also sometimes replies to comments on the blog. But sadly, she rarely even replies to comments anymore.
Appearance
Edit
K has orange skin, orange eyes, and blue hair. She wears has a gray shirt, a black jacket, and a black hat with a K on it.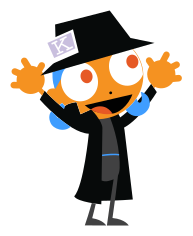 K is the only character in Kart Kingdom to have a voice. Her voice was revealed in the blog post Hat Race 2016 Coming Soon To Kart Kingdom!
For some reason, she has been revealed to own a red button with an unknown purpose.
K appears to be HppyBiirthday and other birthday karts during the birthday 2017 event.
Appears In 
Edit
Ad blocker interference detected!
Wikia is a free-to-use site that makes money from advertising. We have a modified experience for viewers using ad blockers

Wikia is not accessible if you've made further modifications. Remove the custom ad blocker rule(s) and the page will load as expected.