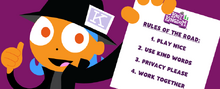 In this KK blog post, K talked about how she is so happy about seeing all the new users coming in! So she wanted remind everyone about the Kart Kingdom rules to keep us safe and happy. The rules are, Play nice, Use kind words, Privacy please, and Work together.
To visit this blog post. click http://pbskids.org/kartkingdom/blog/kk-rules-of-the-road/
Ad blocker interference detected!
Wikia is a free-to-use site that makes money from advertising. We have a modified experience for viewers using ad blockers

Wikia is not accessible if you've made further modifications. Remove the custom ad blocker rule(s) and the page will load as expected.