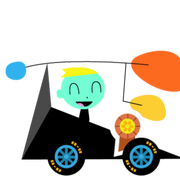 KWSU1976 is a user in Kart Kingdom. He rarely goes on the blog. He is not popular at all.
Appearance
Edit
KWSU wears Dash-like yellow hair and drives the Balance Kart. His wheels are the Speedway Wheels and his sticker is the Bug Garden Sticker. He has light blue skin.
NOTE: This may not be his current appearance; this is the last appearance update we have heard about from him before he was banned globally.
He did, at one time, claim to have found the code UNCSPEED, but later clarified that it wasn't true since most people knew it was false.
His username is based on the name of one of the TV stations in Washington, KWSU. This is where he gets "his" logos from.
In August 2017, he announced the code Sussettey1 discovered, SIXTYSEVEN, without giving her any credit. To this day, no one believes Sussettey1 really discovered the code except for the people on this wiki.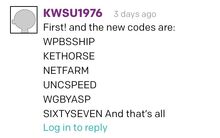 KWSU1976 has committed many crimes (both real and wiki-wise) but, obviously, has not been arrested, probably because he is most likely around the age of 9. Since he came to the wiki, there have been many fights, which caused a divide between the "pro-KWSU supporters" and "anti-KWSU supporters". This was to be resolved with a mock trial on 8/28/17, but due to his (and his lawyer's) absence, it was postponed. It is unknown when the new trial Date will be.
He is called "KWSU" by many users in the wiki. He has commented giving credit to Sussettey1 for the code on the blog.
He also runs Fleetway Super Studios, formerly known as Grand Glade Studios, an animation company whose rival is Mount Snow Studios. Gawain found out the reason he may have the numbers "1976" is that there was a rare and famous station bumper for KWSU (The station) from 1976.
Ad blocker interference detected!
Wikia is a free-to-use site that makes money from advertising. We have a modified experience for viewers using ad blockers

Wikia is not accessible if you've made further modifications. Remove the custom ad blocker rule(s) and the page will load as expected.