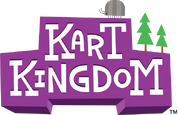 Kart Kingdom is an online game created by PBS Kids. It was launched as a beta on March 24, 2015 (it is no longer a beta) and was the first online multiplayer world made by PBS Kids. It currently has about 50,000+ players. It can be played on the PBS Kids website at http://pbskids.org/kartkingdom/ and on the free Kart Kingdom App (available for Apple, Android, and Kindle tablets). The game also has its own blog.
Gameplay
Edit
There are 4 areas: Grand Glade, Mount Snow, The Deep, and Bug Garden. There are 5 quests in each area, making a total of 20 quests to do in the game. In quests, players explore an area to find objects. 
Gadgets can be used to help with quests.
Powerups
Edit
Powerups are things you can use in the Kart Kingdom Games Tent. The powerups will help you with the game, or they can unlock bonus features.
Kart Parts
Edit
Kart Parts are the most popular things in Kart Kingdom. You can get them by doing Crafting or giving Gus bits at the Give And Get Truck.
Icons are buttons that are on the screen in Kart Kingdom.  
Landmarks
Edit
Landmarks are all over Kart Kingdom. See if you can find them all!
Movement
Edit
In quests, you jump by tapping the UP key or by pressing the SPACE key. You activate gadgets and go through doors by tapping the DOWN key. You go left by tapping the LEFT key, and go right by tapping the RIGHT key. Outside the questing area, the UP key moves your avatar away from the front of the screen, and the DOWN key moves your avatar towards the front of the screen. To go fast, press SHIFT+RIGHT/LEFT. For more movements, press the dance button on the bottom left of the screen. The LEFT and RIGHT keys work the same as in quests.
Bits are things you find in quests. You can use them for crafting Karts, wheels, stickers, gadgets, and Powerups.
Characters
Edit
There are a few characters in Kart Kingdom. K, CC, Gus, Harley, and Drew. Characters from PBS KIDS, such as Dee, Del, and Dot, also appear in the game, as well as special KK characters like Abby, who comes only during the Back to School Event.
Chat System
Edit
In Kart Kingdom players can only chat using pre-made phrases and emotes. Sometimes new phrases are added. However, players can type freely on the blog.
The moderation team can choose whether or not your comments can be visible to other players on the Kart Kingdom blog. If it is too big, or if it contains inappropriate content, it will be deleted.
Ad blocker interference detected!
Wikia is a free-to-use site that makes money from advertising. We have a modified experience for viewers using ad blockers

Wikia is not accessible if you've made further modifications. Remove the custom ad blocker rule(s) and the page will load as expected.