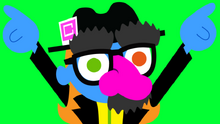 Oh Hello Again! Is a Kart Kingdom blog post made by CC. She asked the players if they like tofu, then she said she likes tap dancing, then she said she found out hedgehogs hearts beat 300 times a minute. Then she said of how these Groucho Glasses she had on are from Gus. At the end of the blog post she asked the users if they believe in polar bears. Since then, it is a kart kingdom meme, saying over and over, "I BELIEVE IN POLAR BEARS AND CC" . This blog post is one of the most famous blog posts because of the meme. It has 1,607 comments.
If you want to see this blog post and learn how the meme began, click here. http://pbskids.org/kartkingdom/blog/oh-hello-again/
Ad blocker interference detected!
Wikia is a free-to-use site that makes money from advertising. We have a modified experience for viewers using ad blockers

Wikia is not accessible if you've made further modifications. Remove the custom ad blocker rule(s) and the page will load as expected.