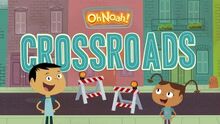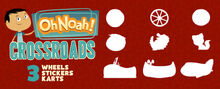 Oh Noah! Crossroads is a game playable in the Games Tent in Kart Kingdom. The objective of the game is to get Noah to deliver things, having to drive, ride a scooter, and walk in order to get there. The game is supposed to teach basic Spanish directions (left, right, up, down). You can earn cheese bits and Noah bits from the game to make Oh Noah Karts, Stickers, and Power-ups. The game is also available in the Oh Noah! section of the PBS KIDS website.
Ad blocker interference detected!
Wikia is a free-to-use site that makes money from advertising. We have a modified experience for viewers using ad blockers

Wikia is not accessible if you've made further modifications. Remove the custom ad blocker rule(s) and the page will load as expected.