The Pineapple Pizza Kart is a kart in Kart Kingdom. Many users seem to hate it. It is very unpopular. Some users want it removed from Kart Kingdom. Others want it to stay, but it continues to get more unpopular. This kart is the most hated kart in Kart Kingdom. And we think this is because it doesn't look like there are pineapples on it, but some people say there is.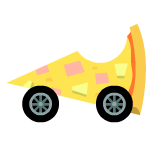 Ad blocker interference detected!
Wikia is a free-to-use site that makes money from advertising. We have a modified experience for viewers using ad blockers

Wikia is not accessible if you've made further modifications. Remove the custom ad blocker rule(s) and the page will load as expected.