The Rock Caves are 3 areas in Grand Glade World. They are used to finish quests like The Otter Quest and The Cardinals Quest. They are somewhat popular. You can find rare bits like string and magnet in these rooms.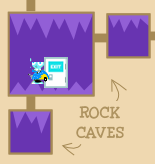 Ad blocker interference detected!
Wikia is a free-to-use site that makes money from advertising. We have a modified experience for viewers using ad blockers

Wikia is not accessible if you've made further modifications. Remove the custom ad blocker rule(s) and the page will load as expected.