Sesamegirl517 is a user in Kart Kingdom.
She is the sister of Bradstormer
She has found the secret code for the Thoroughbred Kart
She helped find the code for the Speedway Kart with the help of Bradstormer, Yumms567, and 1234letsgo70.
She is also a Admin for this wiki.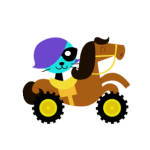 Ad blocker interference detected!
Wikia is a free-to-use site that makes money from advertising. We have a modified experience for viewers using ad blockers

Wikia is not accessible if you've made further modifications. Remove the custom ad blocker rule(s) and the page will load as expected.