This is Kart Kingdom News Network: Issue 3
---
I have completed time-travel! Or...my most successful attempt. I used the WayBack Machine for this, although I have heard that it doesn't really support MMOs. This makes sense.
I tried anyway! I don't remember if I started playing KK on the first day or not, so I decided to use web.archive.com to try and travel to the earliest day possible: March 28, 2015. At first, it didn't continue after loading. Then I kept getting the same screen: "Error 503". Finally, I got through! The game still labeled itself as a beta, but everything looked current. Gus, instead of asking for Dino Train, asked for Goo! I didn't see the waterfall. I thought that I should check out the map and what do I see!? Well....it would seem as though my access to Bug Garden was revoked! I clicked on it and this is what popped up: "Keep playing quests".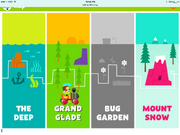 I decided to go to Mount Snow to see if the Misplaced Tree was there. I was on tablet, and since the app isn't out yet, it wouldn't allow me to move. Seeing as how you spawn exactly where the tree is, it would be the easiest way to check. Crash. So, I tried again today. I spawn and everyone is invisible!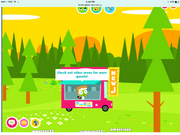 I click on the map again and my Bug Garden was still grey. This relieved me because I had already checked earlier, and Bug Garden was available to me in present time. I go to Mount Snow and I....almost made it. The page was reloaded. This fixed the invisibility issue and I eventually made it to Mount Snow. Tree is still there. I saw someone team crafting nearby so I clicked on him. All my items were messed up again! That item at the bottom right, or what it appears to be, do you think it's the picture for a new item? THE new item?
I will try again once I'm on computer. That way I can move. I will see if the Polar Bear is there.
---
In other news, the Elks imposter, Elkss447, has been caught and his IP address blocked. This is LAHM. So he is a hacker in real life. We haven't collected much false information from the LAHM imposter, Katy5233's older brother. Reporter Sussettey1, signing off!
Ad blocker interference detected!
Wikia is a free-to-use site that makes money from advertising. We have a modified experience for viewers using ad blockers

Wikia is not accessible if you've made further modifications. Remove the custom ad blocker rule(s) and the page will load as expected.