Sigh....
I tried. I really tried guys. But the Kratt Brothers have not answered my questions...yet. They might answer them later. Moving on...
---
Remember that Pinkalicious series in 2018 I told you about? Now we have another show: Luna Around the World. It sounds interesting...
---
EEEP!! This almost makes up for not having my questions answered.
You wished for it; you asked for it; you BEGGED for it! Now the moment is finally here....
RUFF RUFFMAN returns! In a newdigital series, The Ruff Ruffman Show!! Will this be like Fetch? Most likely. In the screenshots PBS has provided us with, we can see lots and LOTS of Studio G!! PBS even used the word "Returns" so we can only assume this won't be like the disappointment Humble Media Genius was. It will be out on September 28, 2017!! THE DAY AFTER MY BIRTHDAY!! What a wonderful present!! Haha just joking.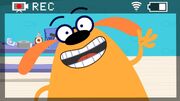 In actual KK news, Gus came back with yet ANOTHER cactus! How long do we have to wait until the desert comes out? Hopefully not long. This cactus has a bandanna on it! Hm.... more new characters? Which one of the revealed characters has a bandanna?
---
That's all for now! Until next time, this is Sussettey1, signing off.
P.S. A theme song has been released!