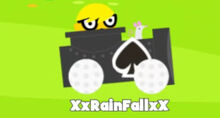 XxRainFallxX is a popular user. He can finally be seen In Kart Kingdom a lot of people missed him and glad for him to be back.

Trivia
He makes a lot of friends
he's on the Kart kingdom wiki mostly everyday
He's also in the Kart Kingdom blog post
he loves wearing the black kart with a mouse on it with a black sticker and the golf wheels
he's very nice so find him in Kart Kingdom to be friends with XxRainFallxX!
his two favorite karts are the dog kart and the picture above with the black sticker and you know the wheels
very kind user!
His dance move with the rocking and jumping probably could be famous he always does it when he is happy.